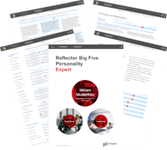 The Reflector Big Five Personality Report
contains information on the so-called
"Big Five" personality factors and the
underlying facets. The Big Five-
Model describes
efficiently and comprehensively describes the differences between people.
The model addresses the following Big Five personality factors:
Need for stability:
The extent to which
we react emotionally to setbacks
Extraversion:
The degree to which we actively maintain contacts
with others.
Openness:
The extent to which we look for new
ideas and experiences.
Sociability
The extent to which we can
putting the interests of others above your own.
Conscientiousness:
The extent to which we
are organized and focused.
Fields of application are for example: staffing, development programs, team development, career consulting, coaching, potential analysis.
"Character rests on personality, not talents." .